Thép Cứng Phong Trào Cứu Quốc – Almost Che
Synopsis
Thép Cứng Phong Trào Cứu Quốc – Almost Che là phim điện ảnh của Hàn Quốc năm 2012, do Yook Sang Hyo đạo diễn, với sự tham gia diễn xuất của các diễn viên Kim In Kwon, Jo Jung Suk, Park Chul Min và Kwon Hyun Sang. Phim được công chiếu tại Hàn Quốc từ ngày 25 tháng 10 năm 2012.
Kang Dae Oh (Kim In Kwon) là người chuyên giao đồ ăn Trung Quốc. Anh giao đồ ăn hằng ngày cho học sinh ở ký túc xá nữ tại một trường đại học gần đó. Kang Dae Oh sau đó trúng tiếng sét ái tình với một sinh viên tên là Seo Ye Rin (Yoo Da In), một nhà hoạt động trong phong trào học sinh. Để gây ấn tượng với Ye Rin, Kang Dae Ho giả vờ là một phần của phong trào. Qua một loạt sự cố bất ngờ, Kang Dae Oh tham gia vào việc tiếp quản Trung tâm Văn hoá Hoa Kỳ ở Seoul, Hàn Quốc…
This hateful world only allows handsome guys to date! 'Below average guy' and Chinese restaurant delivery guy Kang Dae-oh was born single and solo until now. He has a crush on college girl Ye-rin whom he fell in love with at first sight but is blocked by her spec and hasn't been able to tell her his feelings yet.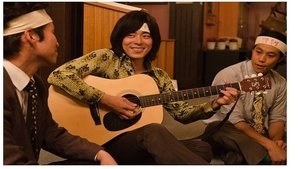 Original title
강철대오: 구국의 철가방
IMDb Rating 5.9 32 votes