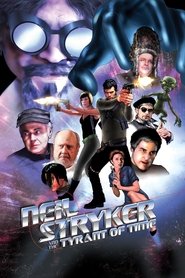 Phi Vụ Vượt Thời Gian – Neil Stryker and The Tyrant of Time
Keep your friends close... and just kill your enemies.
Apr. 11, 2017
US.
93 Min.
Synopsis
Đang trong thời gian bị đình chỉ, đặc vụ Neil Stryker bất ngờ nhận nhiệm vụ truy tìm Carl, nhà bác học điên đã thoát khỏi trại tâm thân. Phát minh ra máy du hành thời gian, Carl đang ấp ủ âm mưu thống trị thế giới. Trên đường truy lùng Carl, Neil không hề biết mình đã khiến con trai gặp nguy hiểm và bản thân anh cũng bị theo dõi.
In a madcap future era, the world's greatest secret agent struggles to rescue his young son from the clutches of his infamous former mentor.
Original title
Neil Stryker and The Tyrant of Time
IMDb Rating 4.0 124 votes
TMDb Rating 8